Wedding Minister-Officiant-Justice of the Peace
Serving the Atlanta Area
COVID19 Special Message:

It is a heartbreaking decision to postpone or cancel your wedding. If you are facing this challenge and would still like to have a legal ceremony, I am here for you. You can legally tie the knot now and look forward to your larger wedding celebration with friends and family when it is safe to do so. Please visit The Elope! Wedding Studio page for more information and determine if this might be an option for you.
As a special response to our current crisis and to comply with social distancing, I am offering a Short & Sweet "Say I Do & Sign Here Special." For just $150, have your ceremony on our outdoor patio or at a beautiful uncrowded park. Call for details.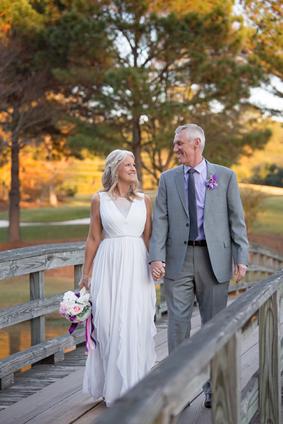 Our Wedding November 2017
Hello, my name is Karen Branch - welcome to my website! I am a non-denominational ordained minister and justice of the peace; therefore, I am able to perform the ceremony you want, free of any rules, restrictions or limitations. I am available to officiate your wedding, vow renewals or commitment ceremony at any location you choose within 50 miles of the Atlanta area - in a chapel, a park, a hotel, even in your own backyard or living room. And if you are still looking for your perfect ceremony site, I offer short & sweet ceremonies at my wedding studio in my home or at parks and other venues in Suwanee, Duluth and Peachtree Corners.

Your wedding day will be one of the most memorable days in your life. And your selection of a minister or justice of the peace will be an important part of your ceremony. As your wedding officiant, I will help you create the ceremony that is a perfect fit for you. Whether traditional, religious, spiritual, civil, cultural or your own unique expression, together we can design just the right ceremony that will have special meaning for you.

Be assured that your wedding day is very important to me. I would love to talk with you about your ceremony and how we can help make it a joyful experience for all.
Rev. Karen
Lovely Riverside Wedding
Call Karen at 404-931-6356
or simply fill out the form below and I will contact you.

Written in the Stars
Written in the Stars Weddings
3990 Vista Point Lane
Suwanee, GA 30024



Web Hosting powered by Network Solutions®